Fire Control Unit X01 Personal Defense Weapon Platform [FCU GEN-2]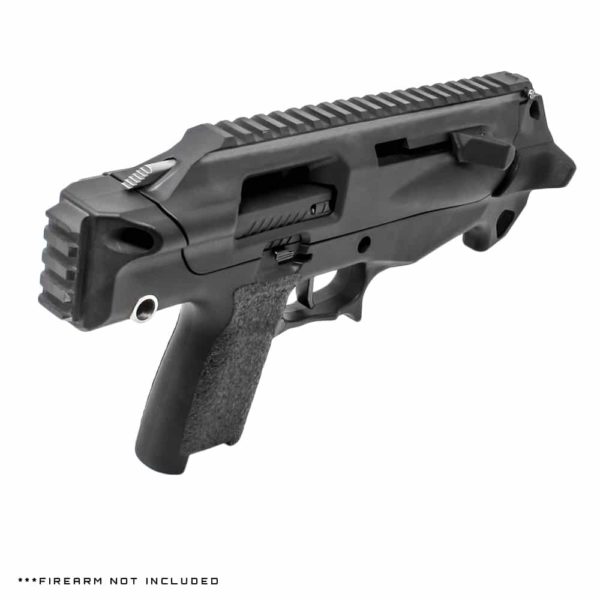 Fire Control Unit X01 Personal Defense Weapon Platform [FCU GEN-2]
Original price
$

274.95 -

$

324.95
YRS Club
Register for 10% discount
$274.95 – $324.95
Free Shipping

For Order Above $150

30 Days
Returns

10% Discount

For Registered Users

Lowest Price
Guaranteed

Over 200,000

Orders Shipped
Description
Description
The X01 is a drop-in PDW upgrade for the Sig Sauer? P320? / P250? / M17 / M18 series of firearms that provides enhanced capabilities such as a vertical rear 1913 rail to attach a SIG? MPX compatible arm brace or buttstock. The X01 enhances the original firearm?s manual of arms with its integrated charging handle, which provides an ?HK?-style? downward release when the left-side handle is locked to the rear. The fore-end of the weapon features three M-Lok? slots, two of which come standard with specially designed hand stops that match the module?s contours. Made in the United States of America.
Click Here to View the Fire Control Unit Assembly Guide
Fire Control Unit Features
Requires Sig Sauer? P320? or P250? slide assembly, magazine release, and FCU (Fire Control Unit)
X01 utilizes donor pistol?s magazine release
Compatible with full size, carry, tacops, x-carry, or compact P320? or P250 slides chambered in 9mm, .40, or .357 SIG?. X-5 compatible on request (see options).
Milspec 1913 Picatinny optic rail
Rear vertical 1913 Picatinny rail for arm brace, buttstock, or sling mounts
An integrated ambidextrous slide-lock charging handle assembly
Rear dual QD Sling mounts
Three (3) fore-end M-Lok? accessory slots
Dual proprietary hand stops
Muzzle compatible with SRD9 Suppressors when requested (more models to be tested soon) when a compact slide is paired with a full-size threaded barrel (Silencerco? model recommended)
Glass-filled nylon & stainless steel construction
Transformation happens in moments and is fully reversible
PATENT-PENDING
Fire Control Unit Compatibility
full size, compact, carry, Tacops, X-Carry
X-Five Sig Sauer? P320? and P250? firearms chambered in 9mm, .40, or .357 SIG?.
M17 / M18 / P320-MS – requires manual safety modification
Fire Control Unit ITAR
International Traffic in Arms Regulations Controlled Product
Fire Control Unit Specifications
X01 PDW:
Weight: 4 lbs
Weight, w/ arm brace (optional): 24oz
Minimum operating length: 16 in
9x3x12in
* Currently only compatible with full size, compact, carry, or X-Five slides.
Dimensions 18 x 9 x 3 in
Intended slide size
Full Size, Compact / Carry, X-Five / VTAC (+$50)



WARNING: Observe safe firearm handling practices at all times. Failure to do so may result in serious bodily injury or death. Fire Control Unit shall not be responsible for injury, death, or property damage resulting from faulty installation, misuse, illegal use, or modification of this product.
EXPORT NOTICE: This is an item controlled for export by the International Traffic in Arms Regulations (ITAR). These controls take the form of export regulations and license requirements.
As part of the express consideration provided for receipt of Fire Control Unit?s goods, technical data and/or services, you, our customer, acknowledge that the export, re-export or other transfer, directly or indirectly, of the goods, technical data and/or services provided by Fire Control Unit in violation of U.S. law is prohibited. Customers acquiring ITAR goods, technical data and/or services from Fire Control Unit shall be responsible for obtaining any necessary U.S. or other government authorization required to ensure compliance with applicable export laws.
Is the Fire Control Unit is NFA?
The X01 in its as-sold configuration with an arm brace or no rear attachment meets the ATF?s classification as a pistol, however, doing one of the following points will cause the unit to become an NFA:
Adding a vertical grip to the X01 will transform it into an ?AOW? and it will become an NFA item.
Adding a buttstock to the X01 will transform it into an ?SBR? and it will become an NFA item.
If you intend to transform the X01 into an NFA item, please acquire your tax stamp or license before ordering as having both the X01 in an NFA configuration and the donor pistol readily available may constitute intent to manufacture / assemble.
For information on the legality of shouldering a pistol stabilizing device, see the ATF?s stance in an official letter.
Additional information
Additional information
| | |
| --- | --- |
| Color | |
| Intended slide size | Full Size, Compact / Carry, X-Five / VTAC |
| Manufacturer | |
Reviews (0)