Table of content
Go in prepared with the Baloo Quick Release Backpack
When it comes to mission-critical outdoor activities, hiking, or wilderness exploration, there are lots of things you can't go without. From personal essentials to mission-critical equipment. With the Baloo quick release backpack, you don't have to make the hard choice on which has to be left behind or equip yourself with lots of bags sacrificing mobility and your long-term performance. This comeback backpack comes in a roomy, compact design. With it, you get enough space to carry your up to 15" laptops, weapons, ropes, clothes, and other mission-critical items you need.
Much more than a bag
The Marom Advanced tactical combat backpack provides more than lots of storage compartments to keep your essentials on you. It also houses a stand-alone tactical belt attached to the bag by its innovative tactical pivotal point. With this, you can get all the support you need to be your best at any point in your journey. The belt also comes with various splices around it, giving you the chance to strap on some of your ready-to-deploy essentials like your 12-gauge ammo and water cans.
Protect what you care for the most
Do you have documents, gadgets, or stuff you would prefer to keep somewhere safer and more concealed than on you or your backpack? Now you can find the right spot for your sensitive materials right on your army combat backpack. Baboo quick release backpack comes with a lot of hidden compartments on most of its parts, making it one of the best combat backpacks to own. With this army combat backpack by your side, your enemy has more chances of never finding what you stored away.
A seamless experience with the Baloo Quick Release Backpack
Your ballistic helmet does a great job to protect you from various forms of danger and hindrance during combat, but they also do a good job to exude heat, weigh you down, and leave you uncomfortable. Hence, at some point, you have to hang them loose around your neck or between your armpit. Why not allow your army combat backpack to assist you with this? With the Baloo Marom tactical combat backpack, you get a beavertail dedicated to helping you with your helmet and other sizable items.
Stay hydrated
The last thing you want to do is to take your eyes off the target just to have a drink or experience dizziness, nausea, or fatigue because of dehydration. So, how do you make it all work out? Stay focused on the mission while giving your body what it needs to survive? The Marom combat backpack has made a way. Alongside all its amazing features, this quick release backpack comes with an inner pocket and top opening for your hydration bladder and water tubes. With this valuable attribute, you can remain at the top of your game anytime, anywhere.
Baloo Quick Release Backpack Is The Right Backpack For Your Journey
It sucks to finally find a backpack that you treasure only to find out it isn't durable enough or lightweight enough. This can hamper your performance in the field should you choose to go for it. And that's why the Baloo Advanced tactical combat backpack coms with superior grade materials. This quick release backpack is made from Durabad, a premium fabric that can withstand a lot of abuse over the years while adding little weight to your frame, making it the best combat backpack for those tough conditions.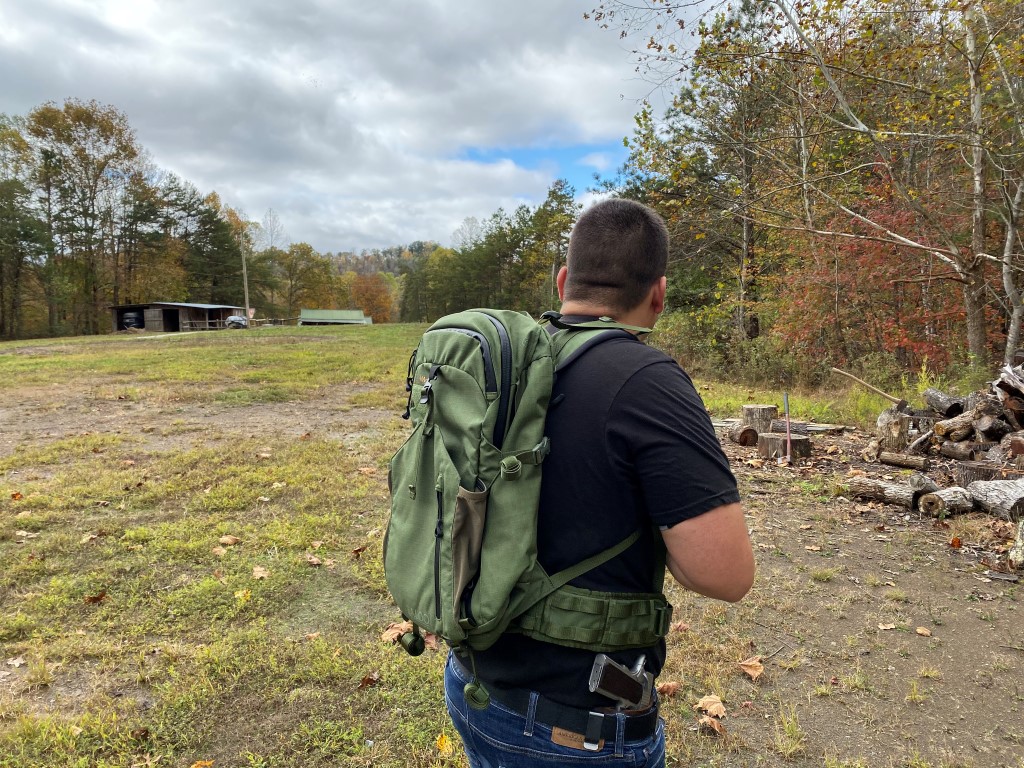 Tech specification
Our innovative Durabad fabric – Stronger and lighter than Cordura.
Beavertail for carrying a helmet or other bulky items.
Easy to grab zipper pulls.
Top protected compartment for eyeglasses.
An inner pocket for hydration bag with 2 top openings for the water tube.
Organizational panel with partitions and zippered pockets.
A rigid but flexible back system with a pair of aluminum rods.
Our innovative T.P.P (Tactical Pivot Point) connector which gives you quick release of the backpack and allows you to use the belt as a stand-alone Tactical Combat Belt.
Pack – 1700 gr,
Waist belt – 340 gr,
Total – 2040 gr.
Dimensions in cm: H53 * W27 * D23
Written & Video Review: Baloo Tactical Backpack - Advanced Combat Quick Release Backpack by Marom Dolphin