CAA Micro Roni Glock 17, 22, 31 Gen 3 S and 4 Stabilizer by CAA Industries Get one of the Roni Glock for the Lowest Price and Order Safely Online - FREE Shipping
The Micro Roni Gen 3 is Discontinued! CAA Industries have released a new, intermediate version of the Micro Roni Glock that used to bring most of the good things about Micro Roni Stab Gen 4 at a more affordable price. This new version is called "Micro Roni Glock 17, 22, 31 Gen 3 & 4 Stabilizer Gen 3 S" and features the following over the discontinued gen 3:
Included in the Kit:
Micro Roni Gen 3 S for Glock 17, 22, 31 with Long Stabilizer Brace (STAB-L)
Description:
You've heard of the Glock Carbine Conversion Kit called Micro Roni Stab, people have said that it is one of the best upgrades for your Glock, and now you are interested in getting more information about it, to understand what does it do and how does it helps you with using your Glock? Well, my friend, you came to the right place! here you can find all the information about the Glock Carbine Conversion Kit from CAA Gear Up - the Micro Roni Stab for Glock 17,22,31.
The Micro Roni Stab for Glock Conversion Kit is a great option to use if you want to be better with your self-defense skills, it can be used in various positions and in a perfectly convenient way!
If you are looking to upgrade your Glock to be more than just a pistol, the micro Roni stab is the perfect fit, it is fast transforming and it gives a lot of advantages that are described below!
With the Glock Carbine Conversion Kit, you can use your pistol and feel like you are holding a rifle with benefits.
Don't hesitate and get yourself a micro Roni stab for Glock 17!
Here is the description of all of the features and a warranty that comes with it:
Designed mainly for the US market. An extremely compact, lightweight and sturdy platform for various Glock pistols.
Available in three colors: Black, OD Green & Desert Tan.
Features:
Equipped with a right-folding stabilizer brace, instead of the original folding stock.

Brace is firmly fastened on the user forearm with an adjustable nylon strap.

Provides stability and enhances performance during single-handed shooting.
No pistol disassembly required – Just drop it into the kit and lock within seconds.
Long Picattiny rail – Allows combining two devices (i.e. red-dot, magnifier or NVG).
Two extra right and left Picattiny rails for mounting additional accessories.
Ambidextrous, easy and fast cocking handle.
Ambidextrous trigger-guard safety.
Optional Right and left serrated thumb-rests for better control on recoil and muzzle rise. (optional)

Front integral tactical light (Optional).

A right-folding stock for easy concealment and carry

, yet the pistol can be operated (grip, cock, and shoot).
Mill Standard!

10 Years Warranty

! Pat-Pending! No Gunsmith Required!
Compatibility:
*The Micro Roni and Micro Roni Stab aren't compatible with Glock with Extended Slide Release.
* Does not fit any Glock RTF with "Fish Gills"
* Does not fit Glocks Gen 1,2,5!
Measurements:
Length Open Stock (cm): 47.6

Length Folded Stock (cm): 34.8

Width Max (cm): 6.3

Hight Max (cm): 14.5

Weight (grams): 720
Material:
Made of Polymer & Aluminum
Optional Add-Ons:
THR - Thumb Rest (one for right-hand users and one for left-hand users):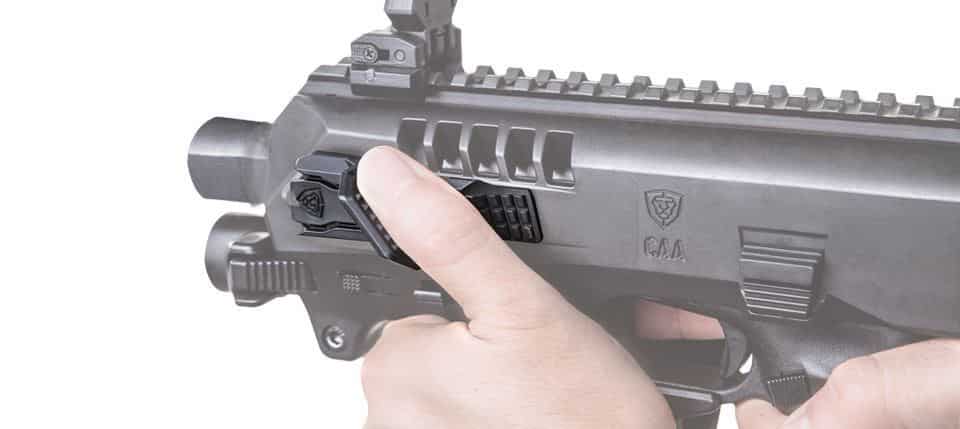 Thumb rest for better grip. set of two for left and right users.
Made of high-quality Polymer and weights 0.3 grams.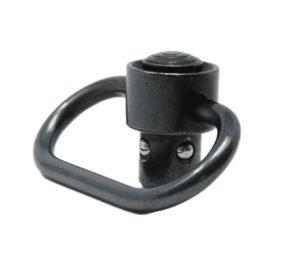 Features:
Position properly & secure.
Design for left/right-handed users.
No gunsmith required.
Mill-standard.
Made of 7075-T6 Aluminum.
KIRO Holsters QDS Compatibility
Universal QD swivel, fits most QD holes. Tested and works with FAB Defense, IMI Defense products, and CAA Industries Micro Roni.
Fab Defense Products
CAA Industries Stocks and Grips
Should also fit any other universal QD Connector
The QDS is not compatible with CAA Industries RONI conversion kits
KIRO Holsters QDS Measurements
Weight 25 gr.
Length 4.1 cm.
Width 2.2 cm.

Ideal for tight quarters combat, allowing easy movement when operating inside tight spaces.
KIRO OPBS Features
Maintains its structure for easy donning.
The sling easily snaps onto many mounting locations.
The fully adjustable sling fits all body sizes.
Quick-release side buckle.
Upgraded tubular webbing with a fully enclosed bungee portion, allowing for increased durability.
Eligibility: Sling mounts.
Material: Nylon.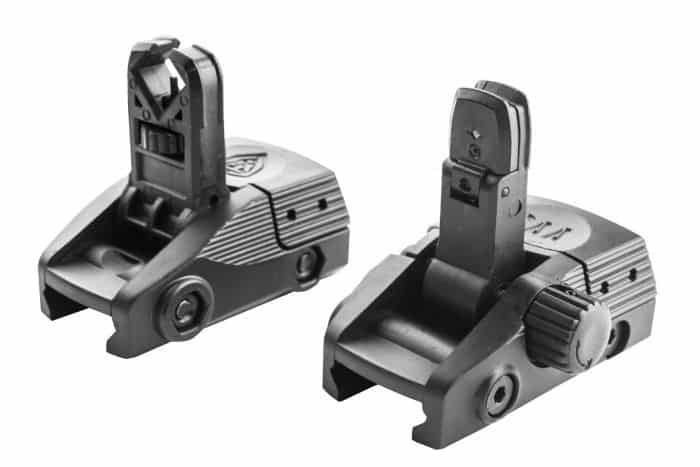 Features:
Very low profile & slim shape.

Can be used as primary or backup sights.

Picatinny mount.

Side operating for both left/right handed users.

Perfectly co-witnesses with the MRDS (MICRO Roni Red Dot Sight)

Simple zeroing mechanism.

No gunsmith required

Mill-standard

Warranty:5 years
Eligibility for Picatinny
Package Includes:
BGR - Rear Flip-Up Sight

BGF - Front Flip-Up Sight
Material:
Made Of Polymer & Aluminum.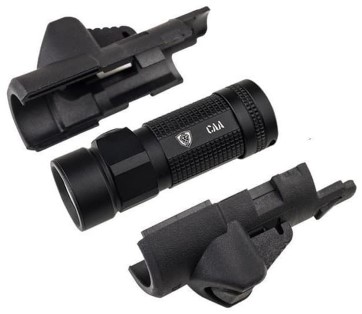 Features:
Flashlight uniquely designed for the Micro-RONI.

Battery: 1X CR123 lithium.

500 lumens.

on offside switch.
Specifications:
Weight (grams): 40

Length Max (cm): 6.0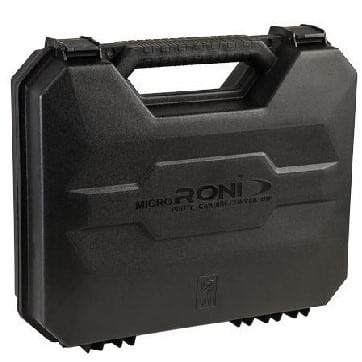 Suitcase for the Micro RONI and/or Micro RONI accessories.
Material:
High Quality Polymer
Dimensions:
Width Max (cm) : 29.0

Height Max (cm) : 12.0

Length Max (cm) : 38.0

Weight (grams): 700.0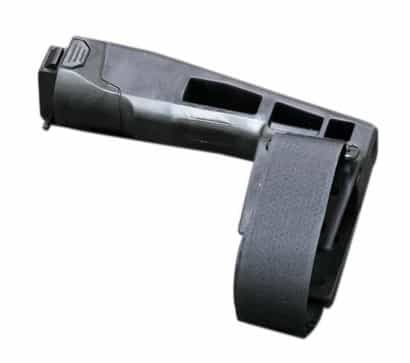 Licensed by SB Tactical™
The Stabilizer Extender is the new and extended stock for ONLY the Micro RONI® Stabilizer platform. It enables one-handed firing for better shooting performance, and better for shouldering. It also comes with a hook and loop fastener provides a custom fit to any user. Designed mainly for the US market only.
The Stabilizer Extender features a folding mechanism for a sturdier position and equipped with an adjustable nylon brace.
Notice: Assembling the STABL require disassembling your Micro Roni (easy).
Stabilizer Extender Fits:
Stabilizer Extender Measurements:
Width: 1.4"

Height: 4.5"

Length: 7.6"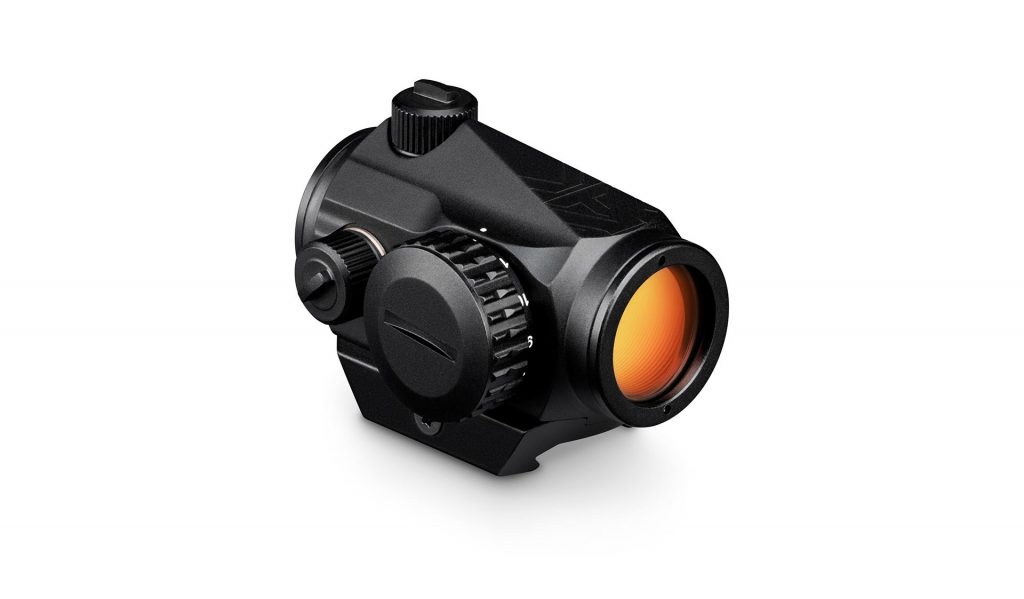 Included In The Box: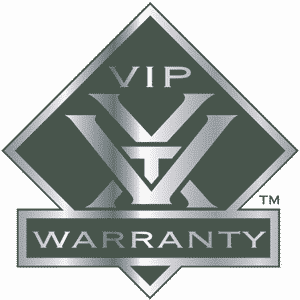 Optical Features
| | |
| --- | --- |
| Fully Multi-Coated | Multiple anti-reflective coatings on all air-to-glass surfaces increase light transmission. |
| Brightness Settings | 11 Levels |
| Parallax Free | All red dot and holographic sights will exhibit some small amount of parallax. Matching current industry practice, this small amount would be considered "parallax free" and will make a negligible difference in the Crossfire's performance. |
Convenience Feature
| | |
| --- | --- |
| Unlimited Eye Relief | Non-critical eye relief for rapid target acquisition. |
Construction Features
| | |
| --- | --- |
| Waterproof | O-ring seals prevent moisture, dust and debris from penetrating for reliable performance in all environments. |
| Hard Anodized Finish | Highly durable low-glare matte finish helps camouflage the shooter's position. |
| Battery Life | Up to 7,000 hours on the medium brightness setting. = |
| Skeletonized Mount Included | Offers two mounting-height options - Low and Lower 1/3 Co-Witness. |
Specifications:
| | |
| --- | --- |
| Magnification | 1 x |
| Eye Relief | Unlimited |
| Dot Size | 2 MOA |
| Adjustment Graduation | 1 MOA |
| Max Elevation Adjustment | 100 MOA |
| Max Windage Adjustment | 100 MOA |
| Parallax Setting | Parallax free |
| Length | 2.5 inches |
| Weight | 5.2 ounces |
| Product Manual (PDF) | Download |