Recover Tactical 20/20 Cheek Rest and Buttstock
ONCE THE BE20 BUTT STOCK IS MOUNTED ON THE 20/20 STABILIZER WITH BRACE KIT, NFA RESTRICTIONS AND RULES APPLY.
Note: You are responsible for knowing your state and local laws and complying with them. Please be advised that you are responsible for the proper and legal use of the Recover 20/20 Stabilizer Kit.
Note: If you are looking for a 20 series platform to purchase with it, please click here
Not For Export | NFA Rules May Apply: Click To Read The NFA Warning
Ergonomic Buttstock & Cheek Rest Design
Compatible with all Recover Tactical Stabilizer Braces
Made from glass-reinforced polymer
Easy to install with supplied hardware
Increases accuracy
Easy Installation
Weight: 56 Grams
20/20 Cheek Rest and Buttstock Compatibility
20/20 Cheek Rest and Buttstock Package Content
Black CR20 Cheek Rest in Black
Black BE20 Buttstock - in Black
Does not include additional parts.
20/20 Cheek Rest and Buttstock Warranty
Lifetime Warranty
20/20 Cheek Rest and Buttstock Installation Guide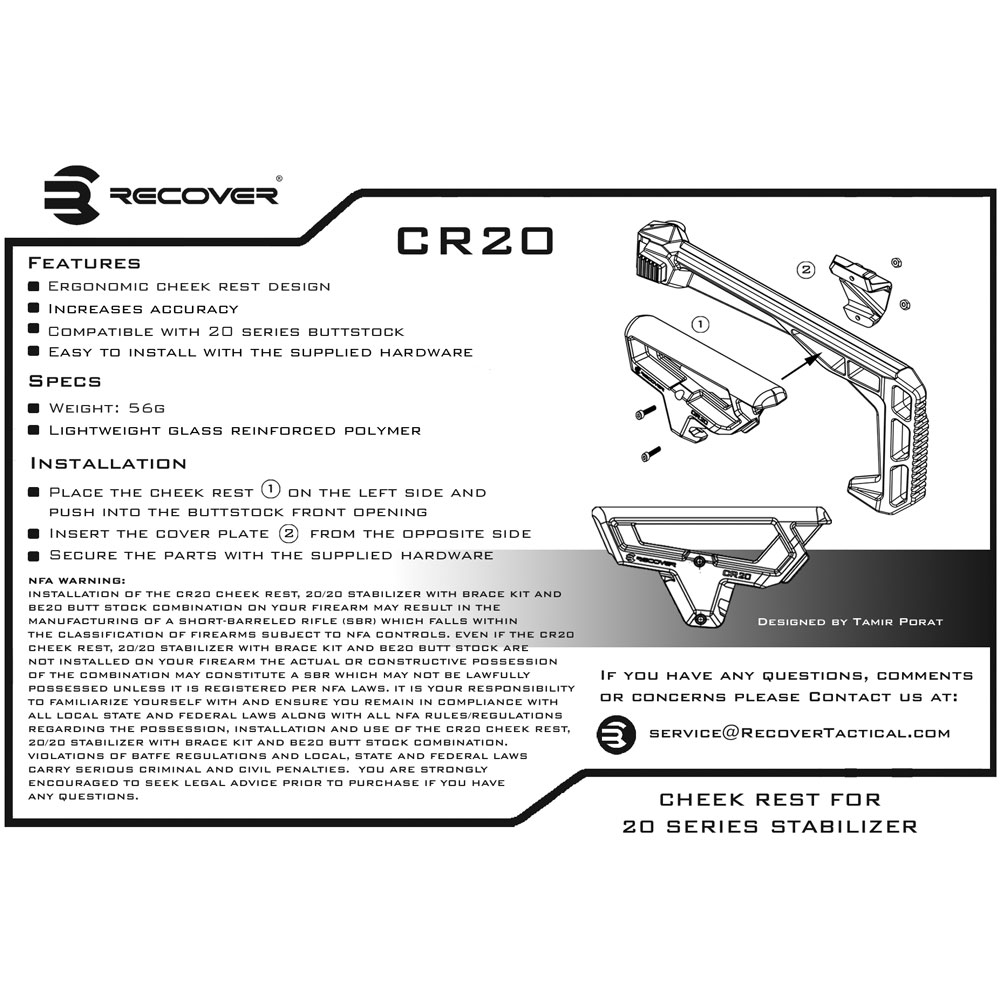 DISCLAIMER: This product is not manufactured, authorized, endorsed, or warranted by GLOCK. GLOCK does not warrant or represent that this product is compatible with GLOCK pistols.
DISCLAIMER: "GLOCK" is a federally registered trademark of GLOCK, Inc. and is one of many trademarks registered by GLOCK, Inc. and GLOCK Ges.m.b.H. Neither YRS Inc., nor this site are affiliated in any manner with, or otherwise endorsed by, GLOCK, Inc. or GLOCK Ges.m.b.H. The use of "GLOCK" on this page is merely to advertise the sale of GLOCK pistols, parts, or components. For additional genuine GLOCK, Inc. and GLOCK Ges.m.b.H products and parts visit www.glock.com.