Kiro Premium Gun Owners bundle - Handgun Case, Cleaning Kit, Eye Protection & Gun Belt
Kiro is a Brand that was created by gun enthusiasts & for gun enthusiasts. We bundled top quality items to provide you with an essential kit that is a must for every firearm owner. Kiro offers lifetime warranty on all its products and is committed to bringing the customer top quality and demanded products in fair prices. Kiro premium gun owners bundle is the finest kit to professionally keep and maintain your firearm.
Included in the kit:
Kiro Handgun Case
The Kiro Handgun Case is a hard and durable pistol case that can fit almost any handgun and magazine. It is made of high-quality fiber-reinforced polymer with two lock ports.
Features:
Lightweight and easy to carry (515 gr)
Ergonomic Design
Universal Case – Compartments suitable with a firm fit for any pistol and an extra magazine
Provides an option to lock the case with a standard lock to prevent the reach of children.
Includes a special patch compartment for customization.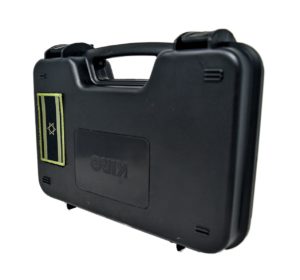 KIRO Shooting Glasses For Tactical And Everyday Use With Blue Lenses (Semi-Rimless Frame):
Package Contains:
Semi-Rimless Frame Shooting Glasses
Cleaning Fabric
Carrying Case
KIRO Shooting Glasses Features:
High-Quality Frame Shooting Glasses for men made with Plastic that is very lightweight yet strong and durable.
Adjustable Nose Pads
Spring Hinge
Shooting Glasses for men built with hinged and silicone nose pads that allow for maximum comfort and flexibility.
KIRO Shooting Glasses Blue Lenses
What are blue Shooting Glasses good for? There's no doubt that the look is fashion friendly. In addition, some studies show that blue lenses can have a calming effect on the eyes. The blue tint enhances contours around objects and reduces glare. This ease in viewing experience invokes less stress on the eye for a longer wear period. Wearing them while on the water will help increase the natural blues of the ocean and sky in any condition.
Protection from blue light
improves sleep patterns and increases overall visual acuity.
Our lenses protect your eyes from potentially harmful 'blue' and High Energy Visible (HEV) light, which can potentially cause macular degeneration and eye damage.
Protection from Infrared light
Kiro glass lenses also provide additional protection from Infrared Rays (commonly known as Heat Radiation or heat Waves) that can potentially cause dry eye conditions or tired eyes.
KIRO Shooting Glasses Material:
Those glasses are made of Polycarbonate. Lenses that are made of Polycarbonate are thinner and lighter than standard plastic varieties, and also much more durable. Polycarbonate is ideal for strong prescriptions because it corrects vision without adding thickness, which can distort the wearer's appearance. Best of all, polycarbonate lenses are virtually unbreakable, making them an excellent choice for children and active adults.
Benefits of Polycarbonate
Impact-resistant
Scratch-resistant
Thinner
Lighter
Polycarbonate Recommended For
Tactical Use
Sports enthusiasts
Safety
Children
KIRO Shooting Glasses Technical Details:
Frame Material: PC
Frame Color: matt black outside +mat blue inside
Frame Type: Fully-Rimmed Frame
Lens Material: TAC lens
Lens Color: grey +ice Blue Revo
UV Protection Rating: 400
UV Protection
UV Protection Rating: 400
Shooting Glasses with this UV Protection Rating block 99 to 100 percent of UV light. This rating ensures that all light rays with wavelengths up to 400 nanometers, including both UVA and UVB rays, are blocked out.
Kiro Universal Handgun Cleaning kit For .22/ .357/ .38/ .40/ .45/ 9m Calibers:
Modern times require compact solutions. I've always had cleaning Kits, but this one tops them all. The Kiro Handgun Cleaning Kit is a "put & forget in a backpack" sized item that is essential for the maintenance of your handgun. Cleaning guns with the range buddies have always been one of my favorite post-range activities, the Kiro handgun cleaning kit comes in handy in this situation as it has multiple brushes and jags for all the buddies and their handguns.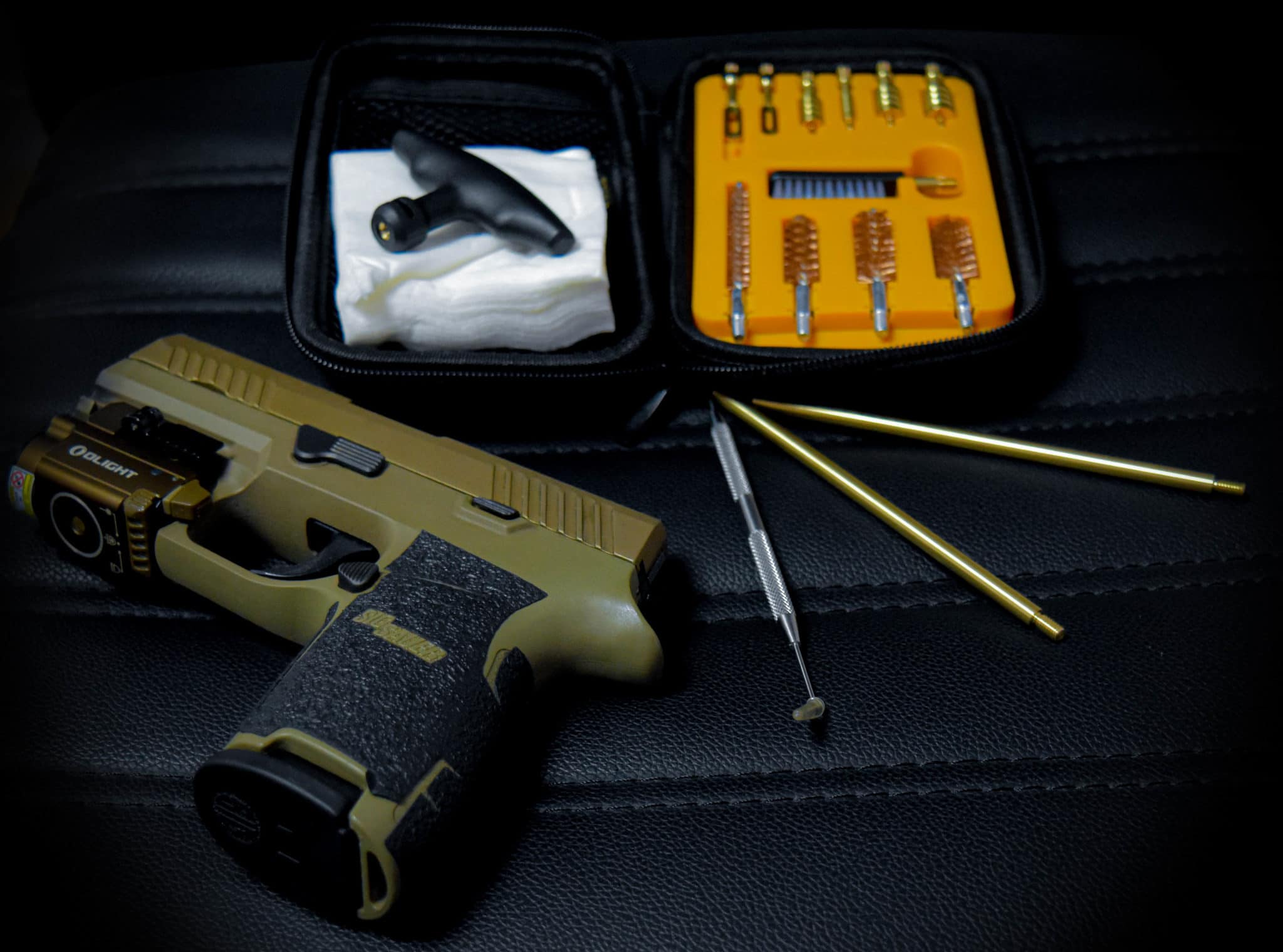 The kit is compact, durable, and has enough space for other items such as oils and lubricants.
Included in the kit:
.45 Cal brush and jag
.40 Cal brush and jag
.357 Cal/ .38 Cal/ 9MM brush and jag
.22 cal brush and jag
.22 brass slotted tip
.30 brass slotted tip
10.5″ brass gun cleaning rod (2 segments)
T handle
50 gun cleaning patches
Stainless steel pick
Nylon brush
Nylon coated flex cable
Zipped tool case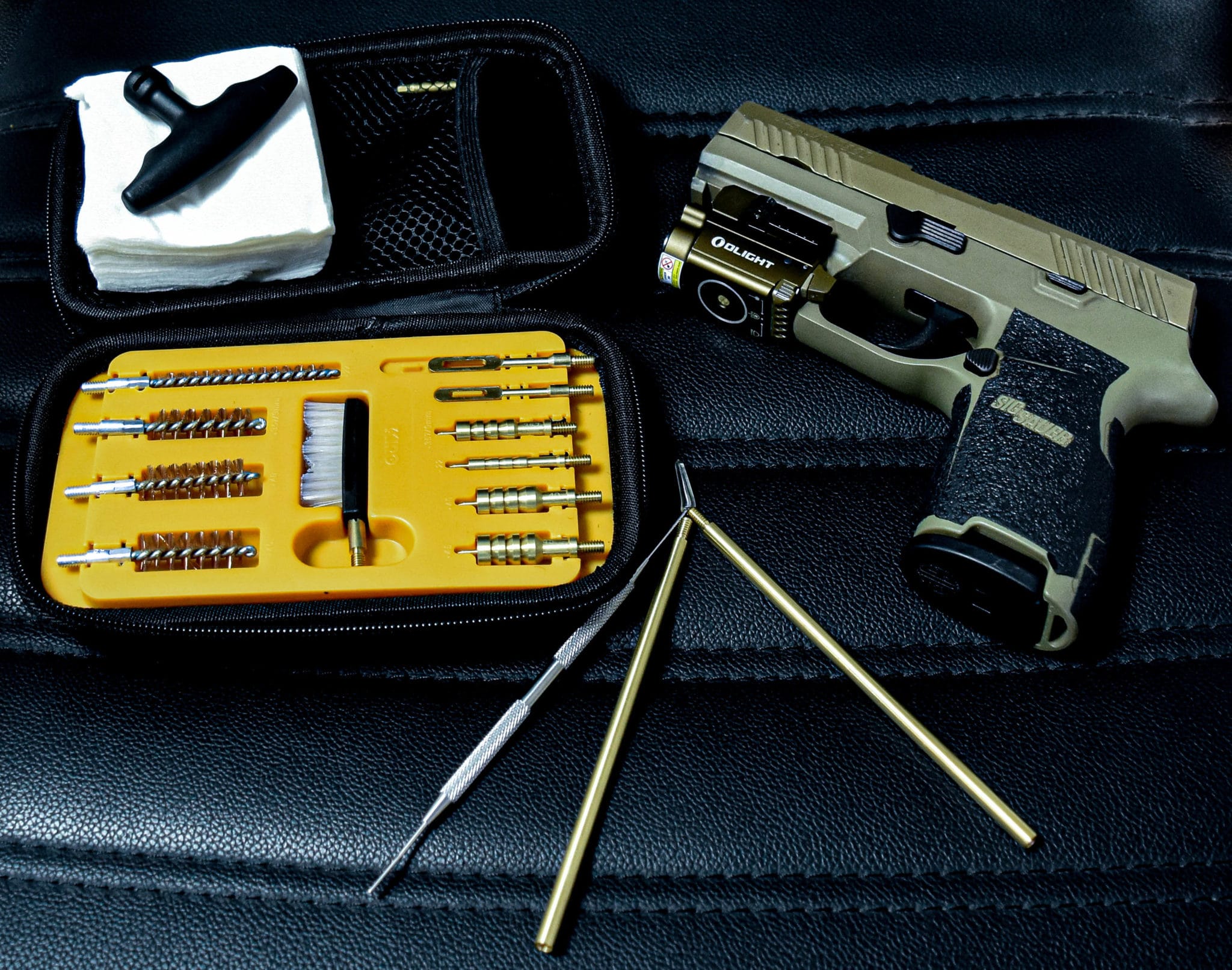 KIRO MOAB Premium Heavy Duty Handmade Leather Belt for Gun Carry
Specifications:
4.5cm (1 3/4″) wide fully-lined HD holster and hardware belts, made of 100% double-layered premium steer-hide, Includes solid brass buckle.
For instructions of how to determine your size using a belt you already have.
KIRO's advantages and source of pride:
Fully-lined, double layered premium Steer-hide with Double stitching
Solid brass buckle / Nickel plated solid brass buckle
Uncompromising quality control process
Premium Italian Varnish and Edge-coat finish.
KIRO provides lifetime warranty against defects in materials and workmanship. Please check our warranty page for more information.
Colors: Tan with solid brass buckle, brown or black with Nickel plated solid brass buckle:
Dark Brown:

Light Brown:

Black: